ANTHEM
by Matt Cabani
A photo book that allows you to relive the emotions of a genre that goes beyond the musical phenomenon to become a visual experience
There are 115 bands immortalized by the lens of Matt Cabani (La Spezia, 1973) in a publication entitled Anthem, produced in a limited edition (300 copies) by independent publisher King Koala. The volume includes never-seen-before shots of international bands ranging from A Day To Remember to Zao, via names such as blink-182, Bring Me The Horizon, Deftones, Good Riddance, Gorilla Biscuits, NOFX, Social Distortion, amongst others. Through a musical and
visual journey, the author's research is presented here as an ode to the hardcore punk scene, epic festivals, and live concerts. Founder of Hellfire Booking Agency, photographer, promoter, and fanzine author, Matt Cabani, has been making his way in the music world for over 30 years now. Musician Walter Schreifels (Gorilla Biscuits, Youth of Today, Quicksand, Rival Schools)
explains in the preface to the book

[...] interestingly, it was Matt's passion for photography that eventually led him to become a successful promoter. He used to tell me, "I used to go to concerts to take pictures and people kept telling me that I couldn't do that, or that I had to move, or I had to apply for passes. Since I speak English very well and know many of the bands personally, I decided to work in booking so I could shoot in peace!"
Starting from the photographer's archive with a selection work curated by Paolo Chiovini and Andrea Costarelli, the realization of Anthem was followed directly by Mariagiulia Leuzzi for art direction, and Giuliano Manselli for graphics.

"The photographs float within the pages asymmetrically, according to a layout and proportions aimed at enhancing the visual content from time to time, making the images "scream". At a time when we have been deprived of live performances for more than two years, it was encouraging to try to convey feelings such as the adrenaline one feels before going on stage, the rush of
energy as the voice comes out with anger and power in the audience's face, post-concert fatigue, or crowd surfing on a sea of raised arms"

Mariagiulia Leuzzi explains in the afterword, following 200 pages of exclusive photos. Covering a time span of more than a decade, the publication returns varied moments of lived life by the protagonists of hardcore punk, testifying to how the scene has developed, expanded, and reached different horizons and audiences over time. In this context, Cabani's deep gaze,
combining his soul as a promoter and photographer, has passionately and steadfastly immortalized not only individual personalities, but also legendary moments, instances, and situations. Anthem is premiered at Hoepli bookstore in Milan (via Ulrico Hoepli 5) from the 29th of August to the 12th of September with a photo exhibition featuring some of the iconic shots
contained in the book.

300 copies
21 x 26 cm; paperback with wire binding
232 pages
Printed on Soporset Premium 120 g/m2 paper (interior); Fedrigoni Arena Extra White Rough 300 g/m2 (cover)
Produced and published in 2022
Texts: Walter Schreifels, Mariagiulia Leuzzi
Art direction: Mariagiulia Leuzzi
Graphic design: Giuliano Manselli/DROMA Studio
Calligraphy: Giovanni Marinovich
In collaboration with: Paolo Chiovini, Andrea Costarelli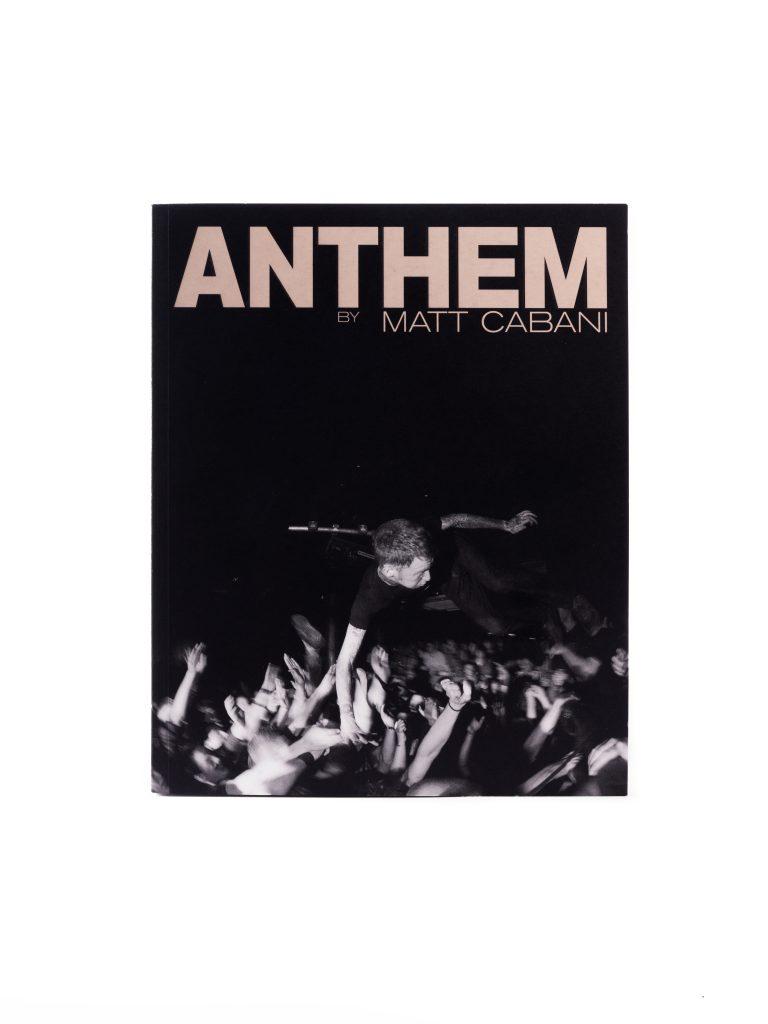 ANTHEM by Matt Cabani