Guest at @beva_vini_ristoro
Via Alessandria, 3 / d, 10152 Turin TO
Presentation Thursday 3 March 2022
h 18.30 <<<<<< signing session + muzik.
@___alessandrapace____
from Pescara, photographer and visual artist presents for the first time a collection of shots belonging to her rich artistic production, in a prestigious volume, created for King Koala Press .
In the last period, Alessandra's artistic career has found an individual turning point that has led her shots to a deeper awareness and a horizon of meaning that transcends the body and nature itself to reach that image " mixed "of sentiment, sought in the folds of a room, of an urban moment, of a moment of passion and transgression. With extreme respect and elegance that have always characterized her underground approach to photography, Alessandra Pace shows us in this book a sort of opening path, a reference to the camera lens, but also an aesthetic awakening that starts from the most intimate of the human being (the bathroom), passing through the essential (the kitchen) up to opening the windows and immersing oneself in the world, up to the most extreme, concrete, carnal opening.
The ecosystem of Alessandra Pace that starts from Pescara to open to the feelings, aesthetic, profane, sexual, natural, mischievous of her viewer.
Alessandra Pace was born in Pescara and immerses herself completely in underground culture, both as a spectator and as a protagonist. She managed the Postbar, a cult place of the Pescara night and since 2012 she has photographed her universe of people, places and sexuality in different ways and forms, both individually and as curator and founder of the @badseedzine collective.
😮 Ocean Atmosphere is her first individual book.
---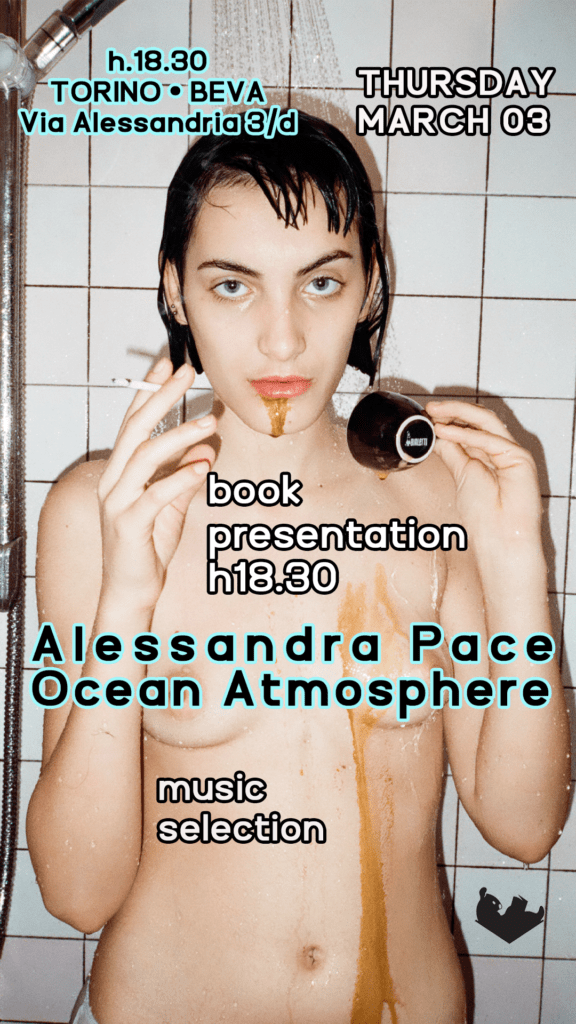 ---